"Birds and Beacons of Michigan" by Kimberly and John Kotzian is now available from your favorite booksellers. (released March 28, 2020 through Schiffer Publishing)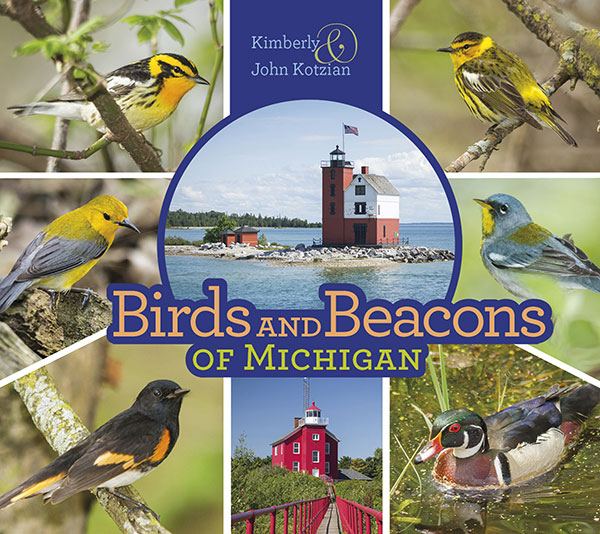 With over 3,000 miles of freshwater coastline, Michigan boasts an impressive 129 lighthouses and 450 species of birds—nearly half the recorded species in the entire United States. The same lights that keep sailors safe have long been natural waystations for our avian friends, weary from long flights, to land for a quick rest and refueling. More than 100 close-up photos invite visitors to find and identify the colorful birds at 20 iconic lighthouses known to be birding hotspots. This handily organized guide also provides location coordinates and a brief history of each beacon, making it a valuable resource for birdwatchers and lighthouse lovers alike.
This project was born from Kim's love of birds and bird photography and John's love of Great Lakes Maritime history. On our travels we discovered that a great many of Michigan's 129 lighthouses are also great birding areas. We had the idea of bringing her photos of Lighthouses and Birds into book form to highlight this marriage of our passions.
While brainstorming potential titles, Kim came up with "Birds and Beacons", a perfect title. From there it was just a matter of putting it all together, a project that took a few years of hard work, but nonetheless a fun and worthy pursuit.
Available at these booksellers (and wherever books are sold!):
Schiffer Publishing
Amazon.com
Barnes & Noble
Books-a-Million
Walmart
Target
Testimonials:
"Birds and Beacons highlights the coincidence of great birdwatching and lighthouses in the beautiful state of Michigan in this thorough, easy-to-reference guide. This book is useful and engaging for people new to birdwatching as well as seasoned birders. What's so unique about Birds and Beacons is its statewide focus and how it brings together notable details, relevant history, and common bird species seen at each site. There is truly something for everyone to learn. In creating this book, Kimberly and John have inspired us to get to know these sites — and their birds — in new, perhaps more holistic and engaging ways." – Heather Good, Executive Director, Michigan Audubon
"Lighthouse enthusiasts often find the remote beacons are much more than historic monoliths. Nature surrounds most of the lighthouses in Michigan, and preserves are often associate with these locations. Kimberly and John Kotzian have combined their unique passions for birding and maritime history to create a one-of-a-kind guide to some of the best lighthouses on the Great Lakes and the winged fauna that can be found there. Amazing color photography is a highlight as well as GPS coordinates to make sure you can locate the scenic beauty on your own. Who knew that Tawas Point had over 150 species you could see in one weekend? I love this book and I hope we'll see a companion book with other states featured." – Ric Mixter, Former president Great Lakes Lighthouse Keepers Association
"Most of Michigan's historic lighthouses are located in scenic, natural settings where encounters with wild creatures, both large and small, are inevitable. Birds and Beacons of Michigan by Kimberly and John Kotzian artfully combines the best of two passions: lighthouse hunting and bird watching. While enjoying the history of our shoreline sentinels, be sure to appreciate the beauty of our feathered friends as well." – Wayne S. Sapulski, Great Lakes Lighthouse Historian, Author, and Photographer